1958 - Philips Pavilion Poème Electronique, by Le Corbusier, Iannis Xenakis, and Edgar Varèse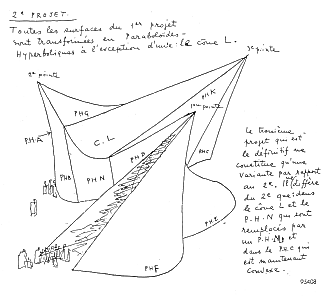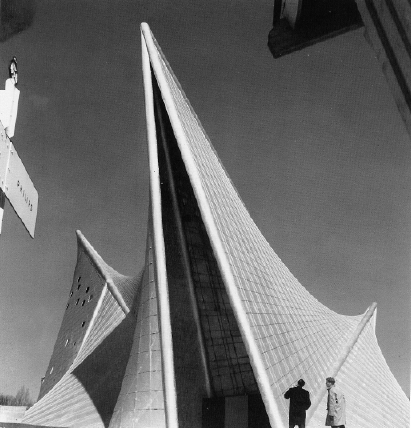 Philips Industries commissioned Le Corbusier to build their pavilion for the 1958 World's Fair to be a showcase of their technology. Iannis Xenakis was working for Le Corbusier at the time and ended up designing the building as well as writing music for some of the spaces (Concret P.H.. Le Corbusier designed the visuals for the inside and chose Edgar Varèse to create the music for the main space. It was an extremely complex installation with 350 speakers, all sorts of lights, slide and film projectors, sculpture and more. Xenakis' music and architecture was heavily based on mathematics, especially hyperbolic paraboloid shapes. Edgar Varèse worked in Philips then new sound studio in Eindhoven with two full-time technitions to create the main musical piece. Le Corbusier worked with his firm to create the visuals.
I am personally fascinated by this piece first of all because of the scale and integration of it. Everything is coordinated as one piece including the building itself. I also think it would have been an incredibly immersive and intense experience.
Links
References
Philips Technical Review, "The 'Electronic Poem' Performed in the Philips Pavilion at the 1958 Brussels World Fair." 20, 37-49, 1958/59, (No. 2/3).
Marc Treib, Space Calculated in Seconds: The Philips Pavilion , Princeton University Press, 1996
"Le Corbusiers Elektronisches Gedicht / Le Corbusier's Electronic Poem -the Philips Pavilion", Gravesaner Blätter n°9, 1957, p.43-50/51-54
"Genèse de l'architecture du Pavilion", Revue Technique Philips vol.20 n°1, 1958-59, p.1-11 = "L'architecture du Pavilion", in Charles Edouard Le Corbusier, Le poème électronique,Paris, Minuit, 1958, 9p.
"The architectural design of Le Corbusier and Xenakis", Philips Technical Review vol.20 n°1, 1958-59, p. 2-8.
"The Philips Pavilion and The Electronic Poem", Arts and Architecture n°11, 1958, p.24.